Latest Company News
December 2019. MCR take delivery of Ereca Cam Racers
Leading UK broadcast equipment rental company MCR Ltd has taken delivery of 4 Ereca 4K Cam Racers.

CAM Racer is an advanced camera fibre optic transmission solution for OB, Studio and Cinema applications. It comprises a camera dockable transceiver and a 1RU base station unit.
With two 12G-SDI channels and two 3G-SDI channels the CAM Racer provides the user flexibility in the production signal format now and in the future, maximising their investment.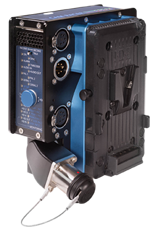 Fitting any camera from ENG camcorder to 4K and 8K Cinema devices it has advanced features not seen on other fibre camera backs. Signal control and setup is provided through an internal web server. Signal status is also reported on an LED display on each unit. The base station Oled display gives direct access to optical receiving levels and server IP address.
An internal audio mixer allows the user to mix between talkback, programs inputs and local audio channels for Engand Reporter headsets. Camera audio inputs are selectable MIC/LINE and phantom power.
Camera control channel supports: Ethernet, RS422 Serial, Canon RC-V100 protocol (Enhanced Lanc). Monitoring HD video at the camera is auto-switched between HDMI and the BNC input.
Other signals include 2 channels of intercom, timecode from the camera and tally.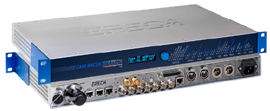 CAM Racer can be remotely powered from its base station. Up to 140W of power is available at the camera unit over 450m of 9.2mm SMPTE 311 cable. An optional V-lock battery support enables the CAM racer and its camera to be locally powered by a battery.
New Year Stage Racer 2 Sales
2020 got off to a flying start with major sales of Ereca's Stage Racer 2
Four 24 SDI and two 12 SDI frames were supplied to UK customers during January. These versatile networking units transport 16x 3G and 8x 12GSDI video per frame, with Dante, MADI, Analogue and embedded Audio.

More details to follow.
HDX Plus from Grass Valley
The new generation HDX Plus enables the latest 4K cameras from Grass Valley and Sony to be operated over dark fibre whilst extending their range of operation.

HDX Plus allows you to extend the distance between the camera's CCU and HDX Plus over fiber, and supply power from the HDX Plus over SMPTE hybrid cable to the camera. The HDX Plus is compatible with Grass Valley's LDX range of cameras and Sony HDC 4300 cameras.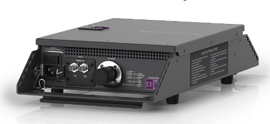 HDX Plus is compatible with Shed-BS when SMPTE power is required to be eliminated and converted to a fiber-only connection from CCU to HDX Plus. The range of operation has been increased providing full power to the camera head up to 3Km from the HDX Plus.

Typical applications include golf, skiing and productions where the distance is too great or only dark fibre is available.

MIBs hire dept has recently taken delivery of 5 HDX Plus units, extending its holding of HD and 4K broadcast fibre optic links.
Latest Product News
PanBox
Now available to hire or buy, PanBox is a range field deployable throw-down fibre optic links for 2 + 1 or 4 + 2 3G/HD-SDI video with optional 2x 4 Wire audio and Gbit ethernet.
TruckLink Upgrades
TruckLink is a general purpose portable broadcast link for the transport of video, audio and data over field deployable tactical fibre optic cable. With Telecast electronics at its heart it can be seen a successor to the popular "Viper" with many additional features and at a lower price point.

Recent enhancements - The current version now uses just 2 fibre cores whilst offering an extra 3G HD-SDI, making 6 in total. This means systems can be fitted with Neutrik DUOs or Lemo 3K.93C and have the full complement of signals.
For rack mount applications a new 1U 19" base unit is available with comprehensive signal monitoring on the front panel and for critical applications internal battery backup is now available as an option.

Click on the image above or see what else do on the products page.